Are these mysterious patterns a crop circle hoax with an underwater twist or are we at risk of invasion from subterranean aliens? You'll be relieved to know it's neither…and surprised at the real reason for these unusual designs.
If you think your lifestyle is hectic, with too much to do and not enough time, spare a thought for the male pufferfish. This poor little fellow spends a week to 9 days criss-crossing through the sand, armed with just his fins as sculpting tools, to create a geometric circular masterpiece (can you see him in the middle?).
Why? To attract a female, of course. With no time to stop in case the current destroys his intricate design, he works ceaselessly to build elaborate formations consisting of ridges and valleys that surround an inner circle.
And once the foundation is laid he doesn't stop there as nothing is too good for his potential mate…he then thoughtfully decorates the outer ridges with shells and coral.
Discovered to be a new species of the Torquigener genus in 2013 after these amazing underwater 'crop circles' were first spotted by a diver in the waters of Amami-Oshima Island, Japan, in 1995, this pufferfish is only 12 centimetres (5 inches) long yet builds an incredible structure of 2 metres (7 feet) wide.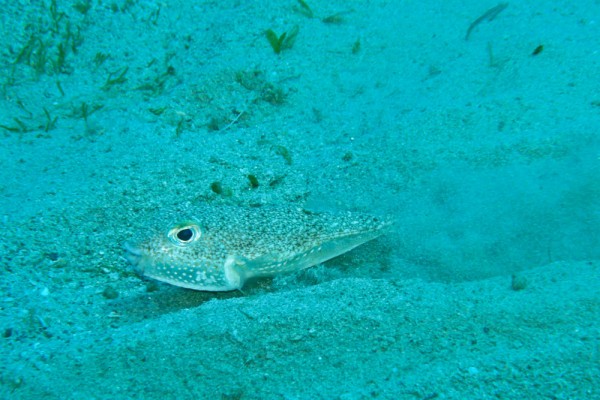 Finally, a female turns up to inspect his work and, providing his creation meets her exacting standards, she lays her eggs in the centre of the inner circle for him to fertilize.
And still the exhausted pufferfish's work isn't finished as once the female has laid her eggs she swims away, leaving him to take care of them until they hatch.
This happens just 6 days later and there's no time to babysit — yes, you've guessed it, he moves on to a fresh patch of sand and begins the whole process again to build another new nest for his next lucky mate.
Watch a clip from an episode of the BBC's Life Story series, narrated by David Attenborough, to see the pufferfish in action:


Photo credits: Kimiaki Ito
Video credit: BBC-Earth, Life Story Ep05 – Courtship – Puffer Fish (Netflix) by TaxusQc